Introduction to Ganhyeon Tourist Area
Located in a spot where the Seomgang River,
17 km to the west, meets the Samsancheon Stream
With a spacious sandy beach, oddly formed rocks, and dense old trees in harmony around the dark
blue rivers, the area commands a fine view with 40- to 50-meter-high rock cliffs surrounding
the area on either side of the rivers.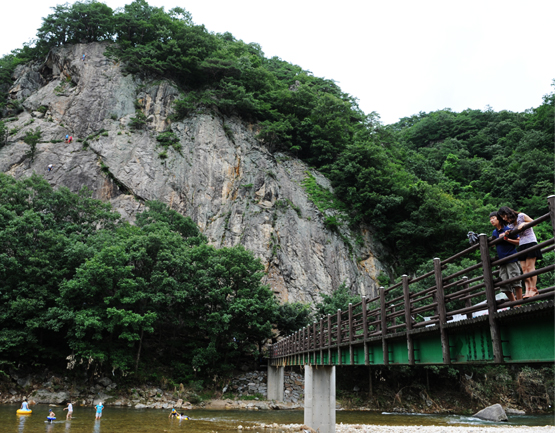 "Once the Han River is passed,
where is the Seomgang River?
Chiak is just around the corner"
As "Gwandong Byeolgok" praised its magnificent view, the area is made even more picturesque with strange rocks and steep peaks floating a shadow in Seomgang River's blue river water and the spacious sandy beach and clean water of Samsancheon Valley.
In the vicinity are various cultural relics such as Heungbeopsa Temple Site, Monument for Great Master Jingong, and tombstones for General Won Chung-gap and Jo Eom. The area was untraveled for a long time as it was used as a ranger training ground, but this served as an occasion for its landscape to return to the virgin land of ancient times; it still maintains the purity of its high mountains and deep valleys because the upper stream of the Samsancheon Stream remains undeveloped.
Later, the Ganhyeon Tourist Area was designated as a tourist spot for the first time in May 1985 by the government, and has been in operation until today, furnished with lodging, campsites, and mountain trails; it is spotlighted as a summer resort for young people and families.
Location

: 12, Sogeumsan-ro, Jijeong-myeon, Wonju-si, Gangwon-do

Area

: 364,644 ㎡

Major facilities

Lodgings (private home lodgings, pensions, etc.)
Commercial facilities (restaurants and shops)
Sports and entertainment facilities (sandy football field and foot volleyball court)
Recreational and cultural facilities (campsites, performance hall, and youth training center)
Public convenience facilities (management office, parking lot, restroom, and shower building)
Facility layout map
Directions
When using public transportation
If coming from downtown Wonju : Take city bus or taxi
When taking city bus No. 52, get off at Ganhyeon Rail Park and walk for about 5 minutes to arrive at Ganhyeon Tourist Area
City Bus Information
If coming from Wonju suburbs : Take express bus, intercity bus, or train
If taking express bus or intercity bus
Take city bus No. 52 at bus stop in front of the Intercity Bus Terminal and get off at Ganhyeon Rail Bike
Take bus No. 57 or 58 at bus stop in front of AK Department Store (near Intercity Bus Terminal) and get off at Ganhyeon Rail Bike
Taking a taxi will cost ~KRW 20,000 (taximeter fare/no extra charge)
Intercity Bus Information
If taking train
Use city bus No. 52, 57, or 58 at Wonju Station or Donghwa Station
Taking a taxi from Wonju Station will cost ~KRW 20,000 (taximeter fare/no extra charge)
Take Munmak call taxi from Donghwa Station
When taking a bus at Donghwa Station, ask the driver "Does this bus go to Ganhyeon?" because buses bound for Wonju also stop there.
Train Station Information
When using expressway by car
Yeongdong Expressway
Come out of Munmak Toll Gate and turn right toward Wonju → turn left toward Oak Valley after driving 900 meters → turn left toward Ganhyeon after driving 1.5 km → turn left toward Ganhyeon Tourist Area after driving 250 meters → turn right toward Ganhyeon Tourist Area after driving 1.7 km → arrive at Ganhyeon Tourist Area after driving 3.2 km (14 minutes, 8 km)
Road Map
Jungang Expressway
Come out of Namwonju Toll Gate and turn right toward Wonju City Hall and Sangji University → after driving 2.4 km, do not enter the underpass but turn left toward Yeoju and Munmak at Integrated Complex intersection → turn right toward Ganhyeon after driving 7 km, then turn left → turn right toward Ganhyeon Tourist Area after driving 2.1 km → arrive at Ganhyeon Tourist Area after driving 2.5 km (25 minutes, 15 km)
Road Map
Second Yeongdong Expressway
Come out of Seowonju Toll Gage and turn left toward enterprise city → turn right toward Ganhyeon after driving 1.3 km → turn right in front of Rail Bike after driving 3.5 km → arrive at Ganhyeon Tourist Area after driving 300 meters (10 minutes, 5.9 km)
Road Map