Geodonsa Temple Site in Wonju (Historic Site No. 168)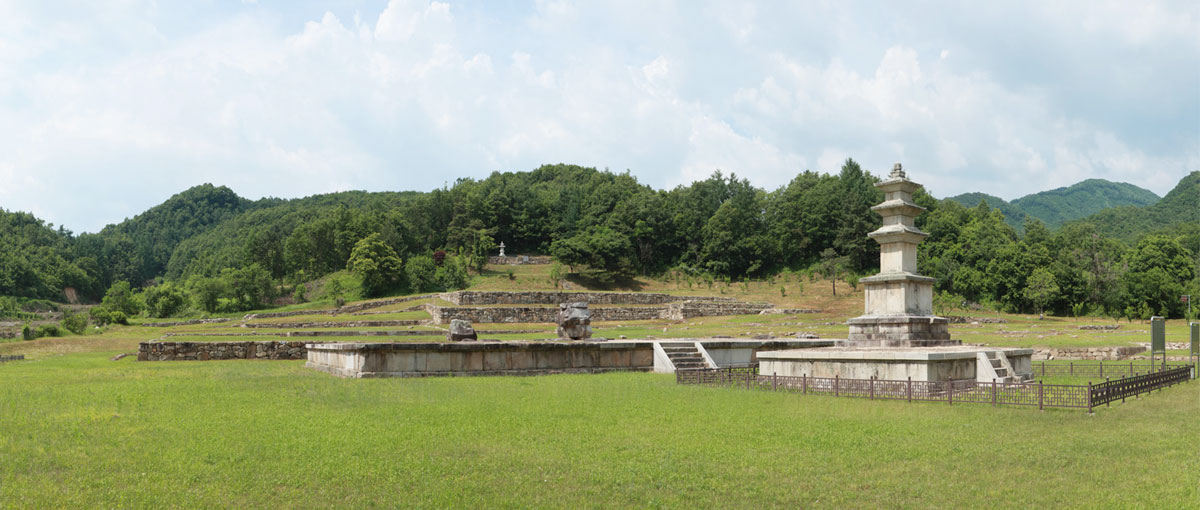 (Historical Site No. 168)
Geodonsa Temple Site in Wonju
Detail
Classification

: Structure/ religious faith/ Buddhism/ pagoda

Unit/ extent

: 25,339㎡

Designation/ registration date

: December 19, 1968

Location

: 189 beonji, Jeongsan-ri, Buron-myeon, Wonju-si, Gangwon-do

Period

: Silla era

Manager (management group)

: Wonju City
It is a temple site nestled in a small valley at the foot of Hyeongyesan Mountain.
Archeological investigations found that the temple had been founded around the 9th century during the late Silla period, and expanded and repaired during the early Goryeo period and then maintained until the early Joseon era. The investigations also identified the sites where the middle gate, pagoda, main hall, assembly hall, monks' residence, and passages were located within the temple site. The main hall is presumed to be a two-story building with 5 kan (space surrounded by 4 pillars) in front and 3 kan on the side.
The Three-Story Stone Pagoda (Treasure No. 750) located to the north of the middle gate site is thought to have been erected when the temple was first built and shows the typical style of Silla's pagodas. To the east of the pagoda is the Stele for State Preceptor Wongong (Treasure No. 78) dedicated to State Preceptor Wongong (930-1018). Its inscriptions were created by Choi Chung and written by Kim Geo-ung in 1025. There had been the Stupa for State Preceptor Wongong (Treasure No. 190) next to the stele, but it was later moved to the courtyard of Gyeongbokgung Palace, its present location. Geodonsa Temple had been a major temple of the Fayan Sect, which was the mainstream of Buddhism in the early Goryeo period, but with the rise of the Tiantai Sect in the mid-Goryeo era, the temple was incorporated to the sect.
Geodonsa Temple has significance as a temple with a single pagoda structure, which is rarely seen in the temples founded from the late Silla to the early Goryeo eras.
The official name of the place was changed from the Geodonsa Temple Site to the Geodonsa Temple Site in Wonju. (Notified on July 28, 2011)