Monument for State Preceptor Wongong at Geodonsa Temple Site (Treasure No. 78)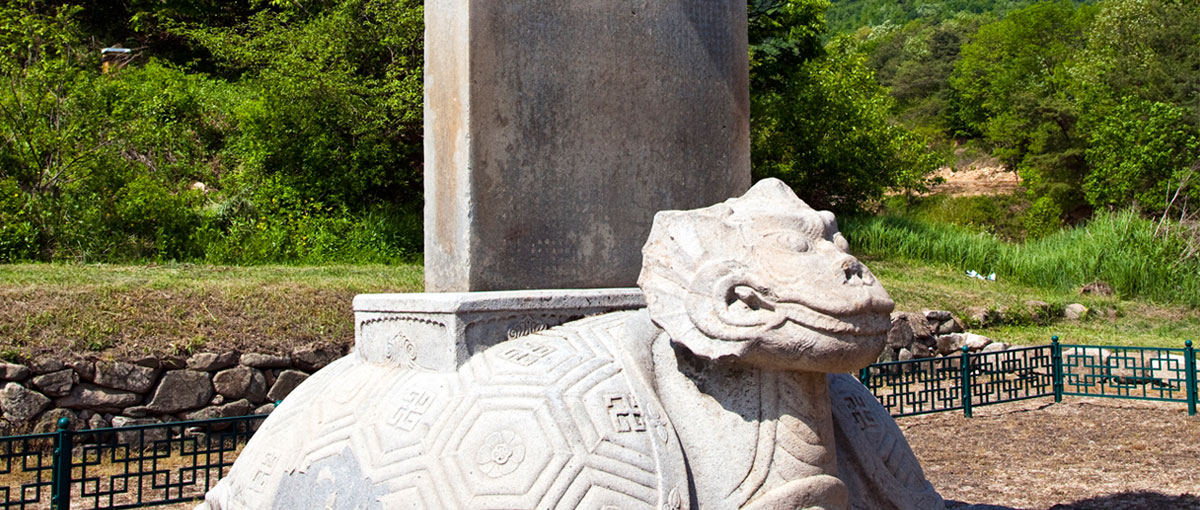 (Treasure no.78)
Stele for State Preceptor Wongong
at Geodonsa Temple Site
Detail
Classification

: Records/ calligraphy carving/ metal or stone monument/ stele

Unit/ extent

: 1 unit

Designation/ registration date

: January 21, 1963

Location

: 144 beonji, Jeongsan-ri, Buron-myeon, Wonju-si

Period

: Goryeo era

Owner (ownership group)

: state-owned

Manager(management group)

: Wonju-si
This stele, found at the Geodonsa Temple Site, is inscribed with the achievements of State Preceptor Wongong, a renowned Buddhist priest of Goryeo.
State Preceptor Wongong (930-1018)'s Buddhist name was Jijong and his family name used before he joined the monastic order was Lee. The inscriptions praise him for his virtue, introducing his life and accomplishments as well.
This stele consists of a main structure on a turtle-shaped base and a cover stone on it. The main structure is relatively small in comparison with the large cover stone. The turtle's head also looks like a dragon's head, with a furious expression like a beast. On the back of the turtle are hexagonal patterns, in each of which a swastika symbol (卍) and a lotus flower are alternately embossed. The cover stone is carved with two dragons that are meandering in the clouds and facing each other with a glowing cintamani in the middle, which are depicted in a very realistic and impressive way.
The stele was erected in the 16th year under the reign of King Hyeonjong of Goryeo (1025), and its inscriptions were created by Choi Chung, an outstanding scholar who was revered as "Haedonggongja" (Confucius in the Eastern Kingdom) and written by Kim Geo-ung in the Haeseoche style, which was developed from the Ouyang Xun style of China. The inscriptions boast a higher level of completion compared with other inscriptions of the Goryeo era, which is even on par with that of Chinese ones.
Meanwhile, related to this stele, a story has been passed down through centuries. At the time of the erection of the stele, its cover stone was too heavy that even dozens of men struggled to move it together, but in vain. So, they had to borrow a bull from a nearby farm, and the bull easily moved the stone alone.