Monument for Great Master Jingong at Heungbeopsa Temple Site (Treasure No. 463)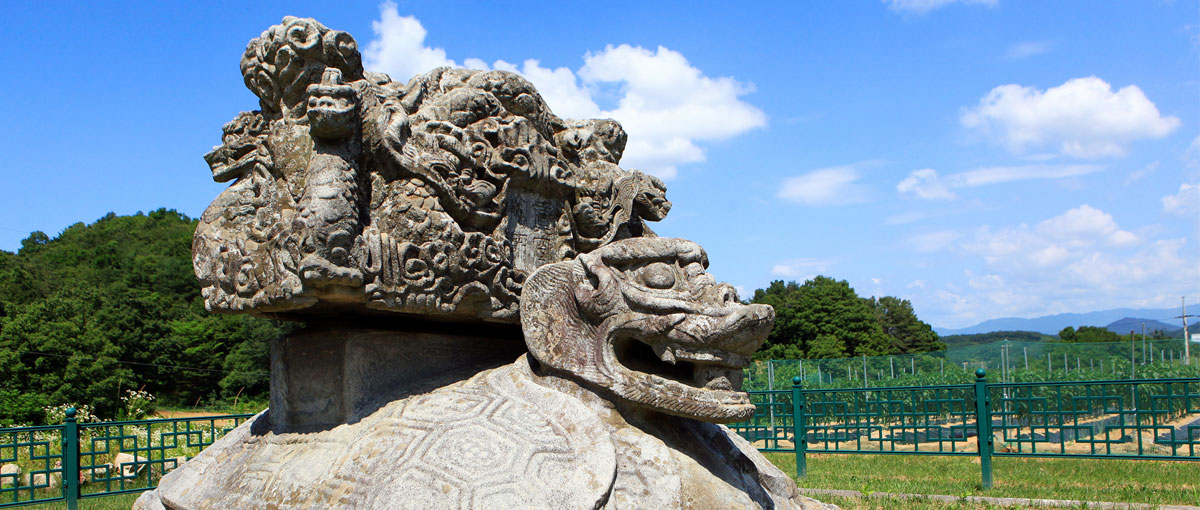 (Treasure no.463)
Monument for Great Master Jingong
at Heungbeopsa Temple Site
Detail
Classification

: Relic/ Buddhist sculpture/ stone sculpture/ gwibuisu (stele with a turtle-shaped base and a dragon-shaped cover)

Unit/ extent

: 1 unit

Designation/ registration date

: July 5, 1968

Location

: 517-2 beonji, Anchang-ri, Jijeong-myeon, Wonju-si

Period

: Goryeo era

Owner (ownership group)

: State-owned

Manager (management group)

: Wonju City
This stele, preserved at the Heungbeopsa Temple Site, was erected to honor Great Preceptor Jingong (869-940), a Buddhist priest from the late Unified Silla era to the late Goryeo era. Its main structure with inscriptions was found broken and later moved to Gyeongbokgung Palace, so only the base and cover stone are remaining at the site.
Great Preceptor Jingong joined the monastic order as a disciple of Jangsunseonsa. After practicing the Way in the Tang China, he returned to Goryeo during the reign of King Gongyang since which he served as the king's adviser. After the foundation of Joseon, King Taejo, impressed by his preaching, asked him to serve as his adviser, but he turned down the request and entered into Sobaeksan Mountain and led an ascetic life there. As he passed away in the 23rd year of King Taejo's reign, the king created inscriptions for this stele, which was erected after engraving the inscriptions using the characters in the calligraphy works of Emperor Taizong of Tang collected by Choi Gwang-yun.
The stone turtle carved into its base has a head looking like that of a dragon rather than a turtle's, and it holds a cintamani in its mouth, with its four feet stably set on the ground. It has a short neck and has hexagonal patterns on the back, in each of which a swastika symbol (卍) and a lotus flower are alternately engraved.
The cover stone is inscribed with the name of the stele in the middle front, which is surrounded by dragons meandering in the clouds. Two of them stare each other menacingly and the other two, on both corners, look aside. On the back side of the cover stone are another four dragons looking at the four different directions. These dragons, carved in an imposing yet delicate way, exemplify a high level of artistic mastery of the time. As the main structure of the stele preserved at Gyeongbokgung Palace are broken into several pieces, the inscriptions are partially indecipherable. It is however deemed that they are mostly about the Buddhist priest's life and achievements.