Beopcheonsa Temple Site in Wonju (Historic Site No. 466)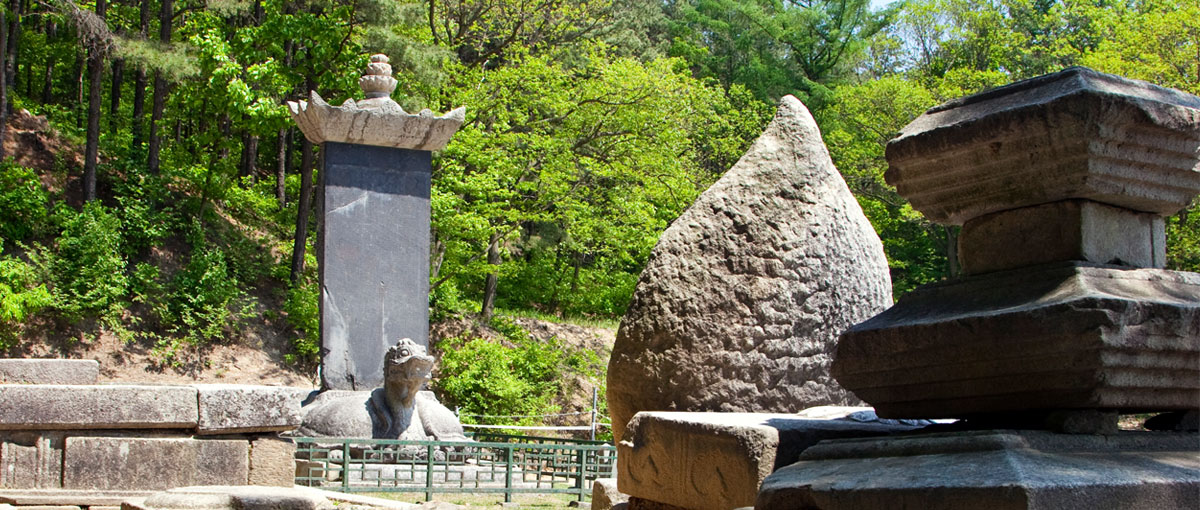 (Historic site no.466)
Beopcheonsa Temple Site in Wonju
Detail
Classification

: Structure/ religious faith/ Buddhism/ temple

Unit/ extent

: 142,122㎡

Designation/ registration date

: August 31, 2005

Location

: 629 beonji, Beopcheon-ri, Buron-myeon, Wonju-si, Gangwon-do (and other areas)

Period

: Unified Silla era

Manager (management group)

: Wonju City
Beopcheonsa Temple, mentioned in ancient literature such as Goryeosa (History of the Goryeo Dynasty), Sinjeung Dongguk Yeoji Seungnam (Newly Expanded Geographical Encyclopedia of Korea), and Dongmunseon (Anthology of Korean Literature), was founded as a mountain temple in the late Silla era and expanded during the Goryeo era. Since Jeonghyeon, a high-ranking priest of the Dharmalaksana Sect, which was one of two major Buddhist sects during the Goryeo era along with the Avatamsaka Sect, was appointed the abbot of the temple, it developed into a leading temple of the sect. Particularly, the temple flourished while Haerin (State Preceptor Jigwang) spent his later years here under the patronage of the royal family after retirement, but it was burned down during the Imjin War (Japanese Invasion in 1592) in the Joseon era.
Both the two important relics related to Beopcheonsa Temple, which include the Stupa for State Preceptor Jigwang (National Treasure No. 101), which is regarded as one of the most excellent stupas in Korea, and the stele for him (Treasure No. 59), were erected by King Munjong. The stupa was however moved to Gyeongbokgung Palace by Japanese rulers during the occupation era, and today, the stele, stupa site and foundation, flagpole supports, and other relics and ruins are preserved at the Beopcheonsa Temple Site.
The four archeological investigations conducted from 2001 to 2004 identified and discovered 19 building sites, 3 well sites, ruins of stone walls and fences, stairway sites, gilt bronze statues of the Buddha, lotus-shaped pedestal, roof tiles, and pottery that are dated in various periods from the Unified Silla era to the Joseon era. The temple site is regarded as a valuable source of data for the study of Korean Buddhist history.