Gingko tree in Bangye-ri, Wonju (Natural Monument No. 167)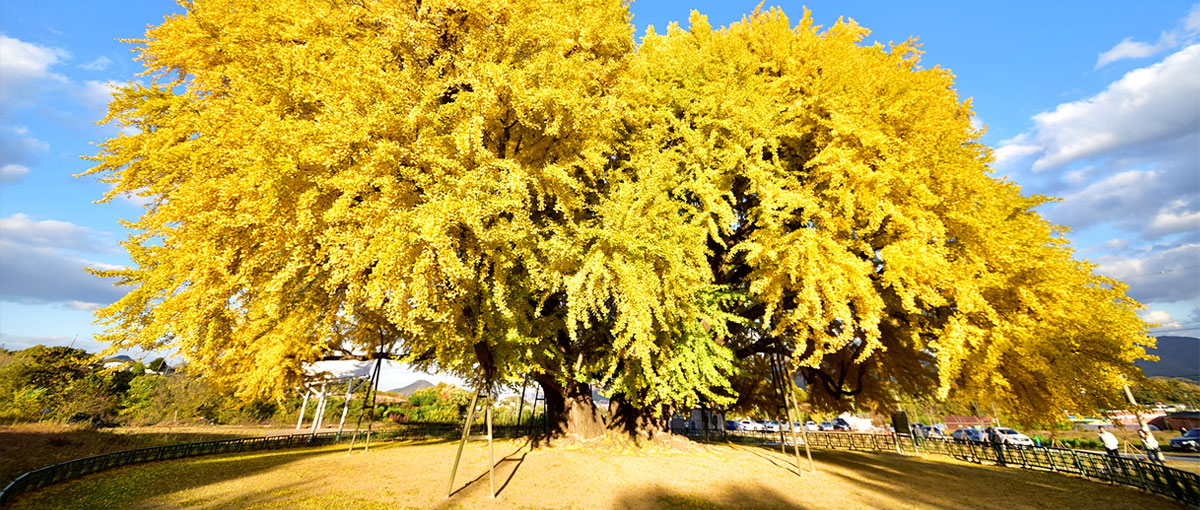 (Natural Monument No. 167)
Ginkgo Tree in Bangye-ri, Wonju
Detail
Classification

: Natural heritage/ natural monument/ cultural and historical landmark/ folklore

Unit/ extent

: 1 tree

Designation/ registration date

: January 31, 1964

Location

: 1495-1 beonji, Bangye-ri, Munmak-eup, Wonju-si, Gangwon-do

Owner (ownership group)

: Wonju City and others

Manager (management group)

: Wonju City
Ginkgo biloba is one of the oldest tree species that it is called "a living fossil". It is widely distributed in Korea, Japan, and China. The tree was first imported to Korea when Confucianism and Buddhism were introduced from China. In Korea, Ginkgo biloba has been used for pavilions or tree-lined streets as they have beautiful autumn foliage and are resistant to blight and harmful insects and provides shade.
The ginkgo tree in Bangye-ri is estimated to be 800 to 1,000 years old. With its branches stretching to all directions, it gives a majestic impression overall, but some branches are supported by struts as they are weakened and can be easily broken.
Various legends and tales have been told in this village about this tree. According to one of them, a man from the Seongju Lee clan planted the tree and took care of it before he left the village. In another tale, a monk stopped by the village on his way to another region to drink water and he left his cane when leaving the village. The cane grew up and became the ginkgo tree. Also, believing that the tree was inhabited by a white serpent, the villagers considered the tree a sacred one that should not be touched, and thought that they would have a good harvest if the tree's leaves turn yellow all at once in autumn.
The ginkgo tree in Bangye-ri, as an old and tall tree that has been taken care of by the locals for centuries and revered as a sacred tree in relation to many legends and tales, is a valuable material to understand the folk culture of the area. For this reason, it has been designated and protected as a natural monument.