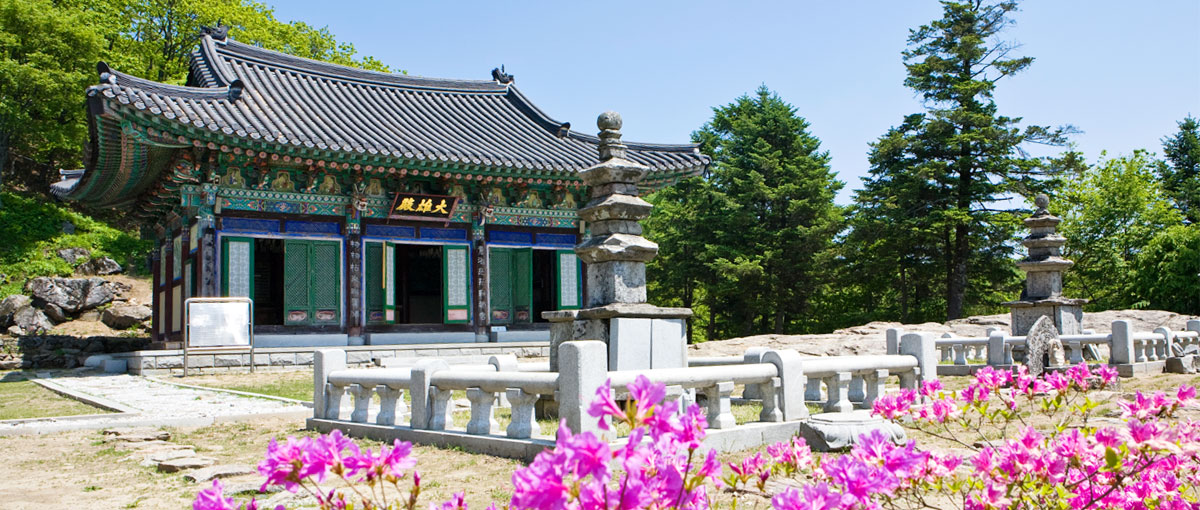 8 Scenic view of Wonju
Sangwonsa Temple
Address

930, Seongnam-ro, Sillim-myeon, Wonju-si

Contact

+82-33-765-1608
Introduction
Sangwonsa Temple, located on the rock of Namdaebong Peak at the southern end of Chiaksan Mountain, is the highest Buddhist temple in Korea. As the temple is located in a high place, it is surrounded by beautiful mountain views that unfold like a landscape. It is not known exactly when the temple was founded, but it is generally dated in the Silla period. It is said that during the Joseon era, the temple was the place where the king prayed for the peace of the country and the well-being of the people.
Tip.
A folktale from Chiaksan Mountain: "The Pheasant that Repaid a Kindness"
Sangwonsa Temple is the setting of an interesting folktale about a pheasant who repaid kindness to a monk. One day, the monk saved the pheasant from a danger. Later, when the monk was about to be killed by a serpent, the pheasant struck the bell with all its might to save the monk. When the bell rang, the serpent escaped thinking that dawn broke. The name of the mountain "Chiaksan" also came from this folktale.
Tip2.
Cultural properties in Sangwonsa Temple
Daeungjeong Hall: It was designated as Cultural Property Material No. 18 on June 2, 1984. The building was burned down to ruins during the Korean War, but was rebuilt and renovated in 1968, and the newly enshrined Buddha statue has a dragon-shaped sculpture on the head.
Stone Pagodas: The two stone pagodas, located on either side of the Daeungjeong Hall, are carved with round lotus buds on the top, which is uncommon in typical pagodas.